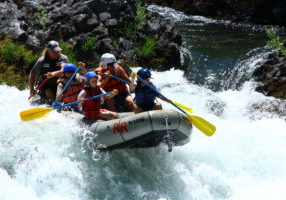 Rafting is such an exceptional vacation value.  Redwoods and Rivers offers affordable options for every family or group budget, without sacrificing beautiful scenery, great food, and the comforts of home.  Try a half-day, full-day, multi-day, or combo whitewater rafting trip for all ages and levels.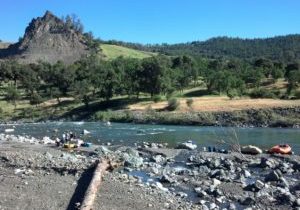 What makes Redwoods and Rivers Rafting exceptional, and sets us apart from our competition, is not only our staff, but our location.  We are the only rafting company located on the Trinity River complete with river front property, private beach and river access, on-site furnished glam camping tent cabin rentals, private cabin rental with all the amenities, on-site ropes course complete with zip-line, and traditional sauna house.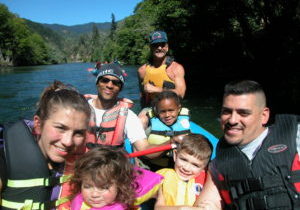 Join us for guaranteed summer water flows, with consistent 90 degree summer temperatures that make playing on the river ideal.  All this while one of our friendly, well trained guides lead you safely down an exciting series of rapids, surrounded by wildlife and wilderness, offering time to play and relax.  End or begin your day right at camp.  No driving time necessary! 
    Difficulty: I to III
    Season: Year round
    1/2-Day, Full Day, Full Day with Dinner, or Multi-Day trips
The Trinity is one of Northern California's premier whitewater rivers, and has the distinction of being one of only 3 rivers in California having guaranteed summer time water flows. The river's characteristic combination of moderate rapids, superb scenery, abundant wildlife, and easy access make its cool emerald green water irresistible!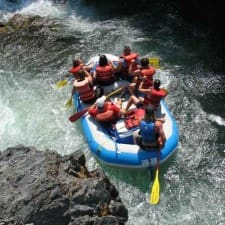 Trinity River
Big Flat, Whites Bar, Del Loma, Hayden Flat Runs - Class II
Relax and enjoy a truly beautiful river!
These runs are perfect for families with young children or grandparents. There is enough rapids to keep you cool and from paddling too long.  These runs are a bit more secluded and offer nice beaches to relax, have a nice lunch and swim in the green pools.
Pigeon Point - Class III
Perfect trip for all paddlers!
Fun exciting rapids that don't require any experience.  You'll get wet and enjoy great scenery, easy road access and spectacular wildlife.  Photos taken at the Trinity's most famous rapid - Hells Hole.
Trinity River Overnight Trips - Class II to III
Trinity overnight trips are designed with family in mind! 
Paddle through the mighty rapids and tranquil calms of the Trinity River for a great family affair.  Bring your appetite for lots of fun and great food.
Three Bears South Fork Trinity - Class V
Spring Run Only
This advanced classic run, seen by few in the isolated canyon offers a true wilderness experience with scenery like no other canyon and excellent class III – V rapids. 
Difficulty: I to IV
    Season: Year round
    Full Day, 2 day, 3 day, 5 day trips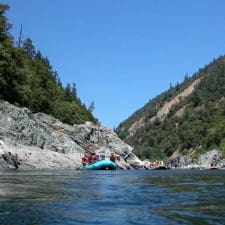 In this remote Northwest corner of California, the land of Sasquatch, the mighty Klamath River carves its way to the sea. You can sense the presence of nature's hand as we paddle through the lush evergreen forest and water carved canyons on this ancient Native American highway.
Rattle Snake, Dragon's Tooth and The Devil's Toenail are a few of the "big drops" that challenge us on our journey downstream. Listen to the guides as they fill you in on the rich natural and cultural history of the river and explain many of the wonders we encounter on our journey. In the calms between rapids, we will likely see some of the abundant wildlife the Klamath area is famous for.
Otter, beaver, mink, bear, elk and over a hundred species of common and rare birds live in and along the river. Our guides will further add to your enjoyment by preparing some of the best outdoor meals you'll ever eat. The Klamath River, the second largest in California, has over a dozen different runs, and offers something for every skill level.
Difficulty: IV to V
    Season: Spring Only
    Full Day or 2 day trips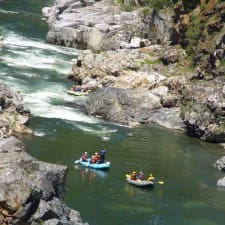 Tucked into the forest and steep cliffs of the Marble Mountain Wilderness, the waters of the California Salmon River tumble over a series of drops, falls, and boulders that demand the best from crews. 
The necessity to paddle with the incredible beauty of the river, constantly compete for your attention. 
This is whitewater at its best, and many of our customer's favorites!  This spring fed river offers the most exhilarating Class IV and V trips in California.  We recommend at least a two-day trip.
Difficulty: I to III
    Season: Spring Only
    Full Day, 4 day trips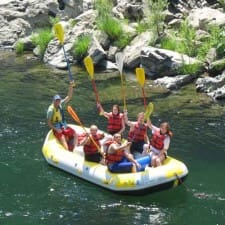 Our South Fork Eel River trip lets you discover the truly scenic alternative for viewing California's giant Redwood Trees.
The Eel flows due to rainfall in the winter, spring and early summer. Heavy rainfall can turn the water muddy but during the late spring and early summer the water turns a lovely emerald green.
Difficulty: I to IV
    Season: Winter and late Spring
    Full Day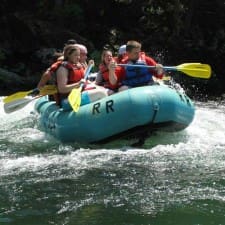 The Smith River is one of the loveliest wilderness whitewater runs in the country. 
While paddling next to giant redwoods trees, the four forks of the Smith make up the only complete river system in California because it is entirely undammed. 
The Smith is considered a "rainy season" river run, only available in the winter and late spring, but it's clean, fun water is well worth it. The Smith offers a variety of runs for every level of expertise.
Rafting

River

Trip Length

Price Per Person

Trinity River
(Class I to III - Year Round)

1/2 Day
Full Day
w/ Dinner
2 Day

$65.00
$95.00
$120.00
$240.00

Klamath River
(Class I to IV - Year Round)

Full Day
2 Day
3 Day
5 Day

$145.00
$275.00
$355.00
$600.00

Cal Salmon
(Class III to V - Spring Only)

Full Day
2 Day

$160.00
$300.00

Clear Creek or Canyon Creek
(Class II to III - Spring Only)

Full Day

$145.00

Eel River
(Class I to III - Spring Only)

Full Day
4 Day

$145.00
$650.00

Smith River
(Class I to III - Spring Only)

Full Day

$145.00
Please Call our office to make a reservation.
Prices Include: Guides, life vests, paddles, boats, river shuttles, and all specialty river equipment. Full day trips include a deli style lunch. Overnight trips include all meals starting with lunch of the first day and ending with lunch on the last days. For an additional fee we will arrange for lodging on any of our trips.

Discounts
| | |
| --- | --- |
| Children Under 12 | 10% |
| Special Populations & Youth Groups | Call for Info |
| Group Discount, 20 or more people | 10% |
Forms of Payment
We accept VISA, MasterCard, Discovery, and cashier or personal checks. We can also email a PayPal link for processing your payment. $30.00 service fee is charged for returned checks.
Gratuities
Our guides are professionals and do their best to make your trip the safest and most enjoyable ever. If you feel your trip was exceptional, a gratuity (although not expected) is gratefully and warmly accepted.
Cancellations / Refunds
Since Redwoods and Rivers incurs and commits to operating expenses prior to each trip, our cancellation and refund policy reflect the fact that these expenses cannot be recovered upon cancellation.
If you must cancel your reservation, written notice is required. We will charge a $25.00 cancellation fee per person. Less than 30 days prior to launch date, no refund will be given unless we can fill your place.
We reserve the right to cancel or modify any trip due to weather conditions or other good cause beyond our control. If your trip is cancelled, you may apply your deposit towards another trip or receive a full refund.