Come rafting with us and explore Northern California's beautiful countryside from a river view.  Whitewater river rafting trips are fun for the whole family.  Redwoods and Rivers provide a wide selection of calm or exciting rafting tours on rivers throughout Northern California.  Whether you are seeking an exciting challenge or a relaxing riverside getaway we will help you find it.
Redwoods and Rivers Rafting has been safely guiding Northern California's whitewater rivers since 1994.  We offer whitewater rafting trips and calm river floats for all levels, from Mild to Wild.  In the Spring, Summer, and Fall you can join us for one of our many family friendly rafting trips on the Trinity River or Klamath River.  These rafting trips are suitable for kids and make for a great highlight to any family vacation.  If you are a fan of the Redwoods and enjoy some seasonal adventure, we offer a selection of river trips for everyone on the awesome "Rivers of the Redwoods".  Contact us today, Redwoods and Rivers Rafting has the right Northern California rafting trip for you.
Klamath River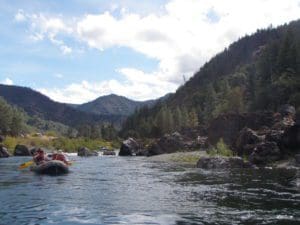 Difficulty: I to IV
Season: Year round
Full Day, 2 day, 3 day, 5 day trips
In this remote corner of Northern California, the land of Bigfoot, the mighty Klamath River gently winds through scenic splendor and lush ancient forest cutting its way through rugged mountains to the Pacific Ocean.  Treasured for its scenic beauty, diverse wildlife, rich cultural history, and recreational opportunities, the Klamath was one of California's first rivers to be granted "Wild and Scenic" river status. Rattle Snake, Dragon's Tooth and The Devil's Toenail are a few of the rapids that challenge us on our journey downstream.  
Otter, beaver, mink, bear, elk and over a hundred species of common and rare birds live in and along the river.  Our guides will further add to your enjoyment by preparing some of the best outdoor meals you'll ever eat.  The Klamath River, the second largest river in California, has over a dozen different runs, and offers something for every skill level.
Native American culture is alive and thriving on the Klamath River.  Ceremonies thousands of years old are still practiced along the river banks and in many of the old village sites.  During these ceremonies, which often last for days, Redwoods and Rivers will modify our trip itinerary to avoid disturbing these scared rituals and out of respect for the Medicine Man and tribal participants. 
Difficulty: IV to V
    Season: Spring Only
    Full Day or 2 day trips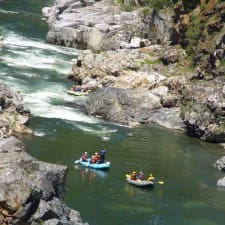 Tucked into the forest and steep cliffs of the Marble Mountain Wilderness, the waters of the California Salmon River tumble over a series of drops, falls, and boulders that demand the best from crews. 
The necessity to paddle with the incredible beauty of the river, constantly compete for your attention. 
This is whitewater at its best, and many of our customer's favorites!  This spring fed river offers the most exhilarating Class IV and V trips in California.  We recommend at least a two-day trip.
Difficulty: I to III
    Season: Spring Only
    Full Day, 4 day trips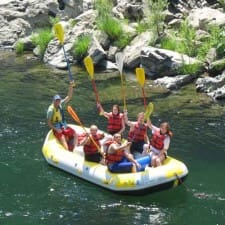 Our South Fork Eel River trip lets you discover the truly scenic alternative for viewing California's giant Redwood Trees.
The Eel flows due to rainfall in the winter, spring and early summer. Heavy rainfall can turn the water muddy but during the late spring and early summer the water turns a lovely emerald green.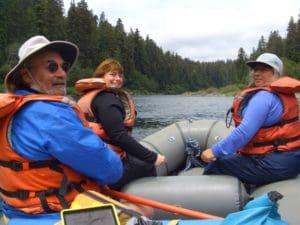 Difficulty: I to IV
    Season: Winter and late Spring
    Full Day
The Smith River provides some of the loveliest rafting in all of Northern California. 
The Smith River is unique in that it is the only complete river system in California that it is entirely undammed.  Because there are no dams, the river is only accessible to river runners during the "Rainy Season".  The rainy season typically begins in November and usually ends sometime in May.  River flows can sometimes be hard to predict but it's clean, fun water is well worth it.  The Smith offers a variety of runs for every level of expertise. The most popular is the Lower Smith float trip (very mild) through the Jedediah Smith Redwoods State Park. 
Trinity River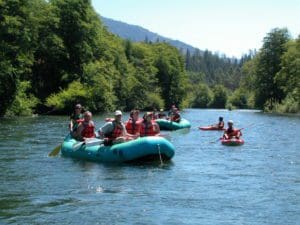 Difficulty: I to III
    Season: Year round
    1/2-Day, Full Day, Full Day with Dinner, or Multi-Day trips
The Trinity River is the only river in Northern California that has guaranteed summer water flows.  Consistent 90 degree summer temperatures make playing on the river ideal.  You and your family can enjoy a calm or an exciting family rafting trip, whichever suits your needs.  One of Redwoods and Rivers' friendly, well trained guides will lead you safely through the calm waters and powerful rapids.  These fun and challenging rapids make for a great and unforgettable experience.  Escape the city and surrounded yourself in the beauty and splendor of Northern California's Trinity Alps, take a ride on the Trinity River.  Call us today and book your trip. The Trinity River's characteristic combination of challenging and fun rapids, superb scenery, abundant wildlife, and easy access make its cool emerald green water irresistible!
Big Flat, Whites Bar, Del Loma, Hayden Flat Runs - Class II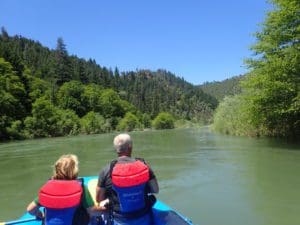 Trinity River's Class II runs are perfect for families with young children or anyone just wanting a relaxing day on the river.  Each of our Class II runs are slightly unique but all provide a quiet, peaceful raft trip mixed with easy, fun whitewater.  These runs are a bit more secluded and offer nice beaches to relax, have a nice lunch and swim in the clear water pools.
Pigeon Point - Class III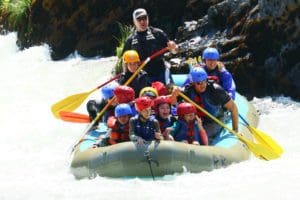 The Trinity River's Pigeon Point Run is great for first timers or seasoned veterans.  It's fun and splashy Class III rapids with plenty of excitement make it our most popular run.  Everyone grabs a paddle and working together we make our way through numerous class II and III rapids such as The Slot, Z- drop, Hell's Hole, Pinball, and Fishtail.  We can provide an inflatable kayak to the more daring at no additional charge.
Trinity River Overnight Trips - Class II to III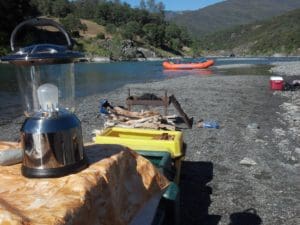 Our Overnight trips are designed with family in mind! 
Choose from our popular 2 day-1-night Wilderness Trip or take advantage of our Campground, Cabins, or RV option.  Whichever you choose Redwoods and Rivers Rafting will provide your family or group the highest quality overnight experience on the river.  With attention to detail, we plan your trip based on your group's individual needs and interests.  We pride ourselves in our delicious meals prepared from scratch, and our friendly experienced professional river guides. 
Three Bears South Fork Trinity - Class IV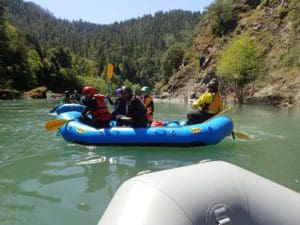 Spring Run Only
The South Fork Trinity is considered by many to be one of the best Class III-IV whitewater runs in California.  This advanced classic river, seen by few, runs through an isolated canyon and offers a true wilderness experience.  The South Fork is Northern California's longest undamned river and has raftable flows only in the winter and spring.
Rafting

River
Trip Length
Price Per Person
Youth/Senior
Trinity River
(Class I to III )
1/2 Day
Full-Day
Full-Day w/Dinner
2 Day
$75
$95
$130
$300
$65
$85
$115
$255
South Fork Trinity
(Class IV)
Spring Only
Adult Price
$175
$145
Klamath River
(Class I to IV )
Full-Day
2 Day
3 Day
5 Day
$175
$350
$475
$625
$150
$300
$425
$575
Smith River
(Class I to III)
Spring Only
Full-Day
$185
$160
Eel River
(Class I to III)
Spring Only
Full-Day
4 Day
$185
$650
$160
$600
Clear Creek or
Canyon Creek
(Class III to IV)
Spring Only
Full-Day
$145.00
This run is for
age 16+, youth
discount not applicable
Cal Salmon
(Class III to V)
Spring Only
Full-Day
$185.00
This run is for
age 16+, youth
discount not applicable
Please Call our office to make a reservation.
Prices Include:  Professional Guides, life vests, paddles, rafts, river shuttles, wet suits if needed, all specialty river equipment, user fees and tax.  Full day trips include a delicious deli style lunch.  Overnight trips include all meals starting with lunch on the first day of your trip and ending with lunch on the last day.  There are several lodging and camping options available for our clients. Everything from fully furnished cabins, to tent sites, and Fully Contained RV sites.  Multi-Day Rafting trips include camping at no additional charge.  Contact us for additional information.
Discounts
| | |
| --- | --- |
| Special Populations & Youth Groups | Call for Info |
| Group Discount, 20 or more people | 10% |
Forms of Payment
We accept VISA, MasterCard, Discovery, and cashier or personal checks. We can also email a PayPal link for processing your payment. $30.00 service fee is charged for returned checks.
Gratuities
Our guides are professionals and do their best to make your trip the safest and most enjoyable ever. If you feel your trip was exceptional, a gratuity (although not expected) is gratefully and warmly accepted.
Cancellations / Refunds
Since Redwoods and Rivers incurs and commits to operating expenses prior to each trip, our cancellation and refund policy reflect the fact that these expenses cannot be recovered upon cancellation.
If you must cancel your reservation, written notice is required. We will charge a $25.00 cancellation fee per person. Less than 30 days prior to launch date, no refund will be given unless we can fill your place.
We reserve the right to cancel or modify any trip due to weather conditions or other good cause beyond our control. If your trip is cancelled, you may apply your deposit towards another trip or receive a full refund.