At Redwoods and Rivers we believe everyone should be able to experience what we have to offer.
For many years we have been hosting customized special group river trips. Let us know what your needs are and we will do everything we can to accommodate your interests and design the perfect trip or wedding.  Call for Wedding options and details.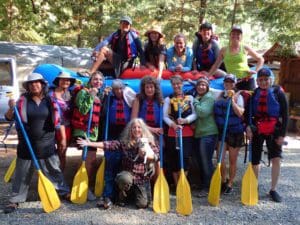 Our 2018 All Women's Retreat is scheduled for August 10th-12th. This trip is for women of all ages. Whether you are young at heart or in years, join some of the best female river guides in Northern California for Redwoods and Rivers 24th annual All Women's rafting retreat.  Come relax, enjoy the river, and splurge on our awesome healthy foods while the Redwoods and Rivers staff do all the work.
Join us for two fun filled days of rafting on the beautiful Trinity River with lots of delicious food right out of the garden. Share stories by the fire, and enjoy the "Glamping Experience" in our fully provisioned tent cabins.  Be prepared for lots of fun, laughter, and maybe a few tears with women from all walks of life. This is a very powerful and meaningful retreat for most participants.
Agenda
Friday August 10th
Arrive by 6:00 for check-in
Dinner Served @ 7:00pm
Saturday August 11th
Breakfast Served @ 8:30
Put on the River @ 11:00
Lunch on the River between 12:30-1:30
Be at take out between 4-5pm
Head back to Camp
Dinner Served @ 7:00pm
Sunday August 12th
Breakfast Served @ 8:00
Put on the River @ 11:00
Lunch on the River between 12:30-1:30
Be at take out between 3-4pm
Head back to Camp
Special Notes:
Redwoods and Rivers' All Women's Trip is one of our most popular trips. Because of this, it often fills to capacity quickly. Therefore, reservations should be made as early as possible to insure your participation.
Extra night's stay and meals, either before or after the retreat, can be arranged for an additional fee. Please call our office for details.
Professional rafting photos are usually taken at Hell's Hole Rapid and can be viewed at river take out.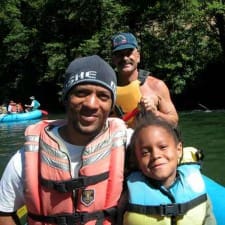 Since our inception in 1994 Redwoods and Rivers has worked with various groups focused on helping At Risk Youth.  Ours is not a "Stand Alone" program but rather an adjunct to existing organizations.  We offer the tools and experience in helping Youth Organizations provide a "Watermark Event" that will build self-confidence in individuals while improving group communication and teamwork.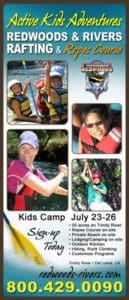 Redwoods and Rivers "Family Camp" is a fun and inspiring program of outdoor camp and river related activities for families that enjoy a taste of fun and adventure.
Have you ever wanted to just take the family to Summer Camp?  You know, the place where you take hikes, hang out at the swimming hole, go rafting, build crafts, and enjoy late evening campfires telling stories and roasting marshmallows for S'mores.  Redwoods and Rivers' Family Camp is you.
This 3-day camp conducted at our Sustainable Homestead on the Trinity River combines River Rafting, Family Activities, Games and Craft projects that are entertaining, educational and Fun for the whole Family!
Our staff members are trained certified outdoor professionals averaging over 10 years of experience working with youth and families in the outdoors.
Cost is $500 a person (Kids 12 and under 10% off) and Includes all meals, specialty equipment, craft supplies, user fees, and tax.  Lodging options include, Tent Sites, Tent Cabins, Cabins, RV, and Trailer sites.  Call Us for questions or to make a reservation.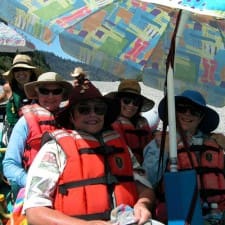 Looking for a little on the water relaxation?  Well, we will accommodate anyone willing to enjoy the fresh air and beautiful outdoors. 
Join us on one of our scenic flat water floats and glide through some of the most beautiful terrain in Northern California.
Take the time to breathe in the fresh air while you focus on bird watching, wildlife, flora and fauna, and the history of the river.  And don't forget your sun hat!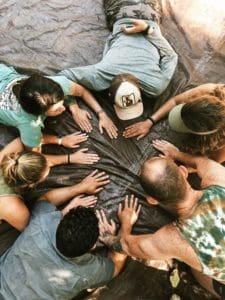 Promoting personal growth and group success are the common goals of Redwoods and Rivers' Teambuilding programs.  Our programs are custom designed and adapted to the age and needs of each group.  Redwoods and Rivers' trained facilitators carefully sequence itineraries using Facilitated Games, Low Ropes Course Elements and Rafting, to emphasize teamwork, leadership and communication skills.  Because each activity is specially designed to challenge group members to work together, groups overcome challenges and accomplishing tasks together. Since teamwork and communication are necessary to succeed in life, our Teambuilding Programs give groups and individuals the basic tools for each.
Redwoods and Rivers' Team Building typically begins with icebreakers and warm ups and move into initiatives using ground activities and low ropes course elements. If you signed up for the Teambuilding/Rafting Combo these activities are followed with a BBQ lunch and ½-day Rafting trip.
Each of our facilitator/guides are trained and experienced river guides and challenge course facilitators. Most importantly, all are certified in First Aid, CPR and Swiftwater Rescue.  Redwoods and Rivers provide package teambuilding adventures for your groups specific goals.  Our guides and facilitators will create a program combining ropes course and rafting trips to build trust, unity, communication and leadership.
This is a fantastic opportunity for any group that desires to shape stronger working relationships and become more productive.
To get your Team Started on the road to better productivity and communication give our office a call.  1-800-429-0090
Program
Trip Length
Price Per Person
Rafting / Teambuilding Combo
(1 Day Rafting,
1 Day Teambuilding
and 1 Night Camping)
2 Day
$250.00
Weddings, Family Reunions, Group Retreats
Please call for prices
Whitewater Guide School
6 Day Course
$780.00
All Women's Trips
2 Days Tent Lodging
2 Days
$285.00
| | |
| --- | --- |
| Children Under 12 | 10% |
| Special Populations & Youth Groups | Call for Info |
| Group Discount, 20 or more people | 10% |
We accept VISA, MasterCard, Discovery, American Express, and cashier or personal checks. Also, we can email a PayPal link for processing your payment. $30.00 service fee is charged for returned checks.
Gratuities
Our guides are professionals and do their best to make your trip the safest and most enjoyable ever. So, if you feel your trip was exceptional, a gratuity is gratefully and warmly accepted.
Cancellations / Refunds
Because Redwoods and Rivers incurs and commits to operating expenses prior to each trip, our cancellation and refund policy reflect the fact that these expenses cannot be recovered upon cancellation.
So, if you must cancel your reservation, a written notice is required. Furthermore, we will charge a $25.00 cancellation fee per person. And less than 14 days prior to launch date, no refund will be given unless we can fill your place.
We reserve the right to cancel or modify any trip due to weather conditions or other good cause beyond our control. If your trip is cancelled, you may apply your deposit towards another trip or receive a full refund.