Not Just For Guides
If you haven't yet heard, Redwoods and Rivers is holding their Spring Guide School from March 15th to the 20th.
Even though I graduated Guide School in the Summer of 2018, I still get beyond excited for it each time.
Why? Because I know first hand how empowering and life-changing this course can be.
During my super senior year of college, I was desperate for a summer internship. A couple of weeks before summer started, I learned about Guide School and thought about how cool it would be to be a river guide for summer.
I imagined it was going to be like a driver's ed course, but in a raft on the river instead of a car on the road.
The course instructors teach skills involved in river anatomy, hydrology, boat control, and swift water rescue. They also teach about cultural history, leave no trace camping, outdoor leadership skills, and outdoor cooking for groups.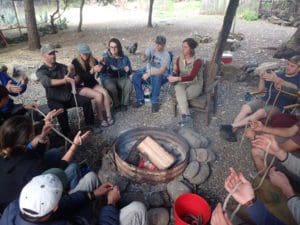 But I gained more than guiding skills and knowledge. I learned so much about myself in those 6 days of the course.
I learned to overcome fear; fear of not being strong enough to pull someone out of water and fear of falling into moving water. I overcame those fears and learned that I am stronger than I think. Tools and techniques can make up for lack of muscle. I learned to enjoy jumping into rapids and to just go with the flow.
I started to appreciate all the things my body was capable of doing and understanding that for all the things it can't do, my mind is strong enough to find an alternative way to get the job done.
Guide school was an empowering experience. I am a more confident and courageous woman because of the experience.
I recommend guide school to people even if they don't ever plan on becoming a guide. It's a powerful experience. You will meet amazing people, eat the most delicious food, and learn how to be safe on and near the river.
But most importantly, you will learn about yourself and the amazing things you are capable of doing.